Last week I wrote an article to help you pack for BurlyCon, and today I will discuss some strategies for surviving the sparkly chaos. I've been to BurlyCon 2 times and have learned, at least for myself, that you have to pace yourself, and as much as you want to do ALL THE THINGS, it can be difficult. I hope this list of tips will be helpful, and I would love for the experienced BurlyCon goers to add their $.02 in the comments below.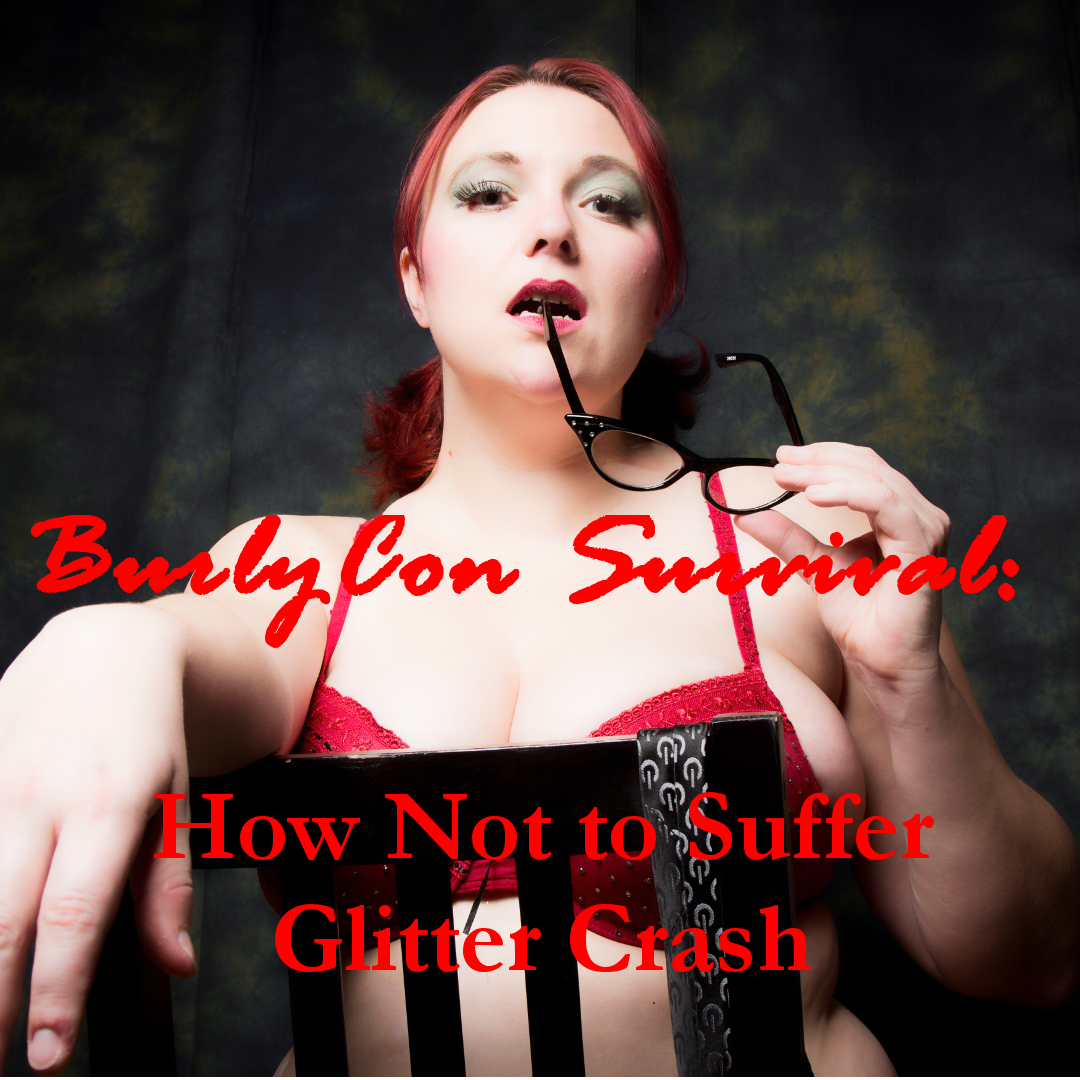 Before you attend, here are a few things you can do to prepare:
Take a look at the schedule posted on the BurlyCon website. Mark the classes that you are interested in taking.

If you can't decide between two classes that are at the same time, talk with some of your friends who are going. If you have a friend going to one of those classes, ask them to take notes and share later while you go to the other class.

Download the guidebook app on your smartphone or iPad. This will be handy for looking up class times. You can plug in your chosen classes. It can also be used by BurlyCon to reach out with important messages.

Set a budget for yourself for shopping. Get your allotted amount in cash so that when you spend all your money, that's it! It will be very hard to resist the BurlyCon store, but you can keep the damage to a minimum by planning ahead. (More tips below specifically on shopping at BurlyCon)

Plan with your roommates before you arrive if you plan on stocking the room with snacks. You can split costs and not have excessive food in the room, which will also help with packing.
When you get to BurlyCon, here are a few things for you to remember:
Carry a water bottle and use it! Hydration will help your survival immensely.

Don't force yourself to do it all if your body can't keep up. If you need to skip out on something to rest, give yourself permission to do so.

Don't feel like you have to go to the classes your friends are going to. Choose classes that you feel will most benefit your burlesque career.

Take notes in class, because you're getting a TON of information this week and it's near impossible to remember it all.

Carry your business cards with you at all times! You never know who you'll run into that you want to stay connected with

Make sure you get some sleep. It'll be hard to take full advantage of those movement classes if your body isn't well rested.

Don't forget about Hospitality! I always forget until I'm desperate for something, ANYTHING to put in my stomach right before the first class, and TA-DA! I see some snacks at Hospitality! Not meant for a full meal, but there is coffee, tea, and other noms!
When you set your eyes in the BurlyShoppe, you will want to buy ALL THE THINGS! It's a fact. If you have a limitless budget and enough room to pack your goodies to bring back with you, by all means skip this list. If you would like some tips to try to limit your spending, below are my tactics:
Come up with specific things to look for. It'll fine tune your browsing so you're less tempted to buy extraneous items. 

Before buying a piece, ask yourself "What will I use this for?"

Make a list of the things you want to buy and sit on it for a day. If you still want it the next day, then go buy it. This should help curb some of the impulse shopping tendencies.

Leave the credit cards in the room in the safe so once you exceed your cash budget, you have the walk to and from your room to think about if you really need that item enough to your budget.
I hope these strategies help you make the most out for BurlyCon! It truly is an exciting time for us burlesquers to hone our craft and bring back some skills to our hometowns to further impress our audiences.
I'd love to hear from you! Please share any of your own BurlyCon survival tips in the comments below.