Finally! My Puck N Grind Review
Remember when I did that vlog about Puck N Grind, which took place November 21, 2015? Well, I meant to report back about how the event went, and then I got overwhelmed by the ginormous holiday season that is Thanksgiving and Christmas. Then I just got lazy with the blog. Sorry folks. I went through some pictures recently, and I found some from Puck N Grind that reminded me about the event. Now that I have some time to reflect, I bring to you my musings on the Puck N Grind Hockey Tournament/ Hockey Watch Party and Burlesque Show!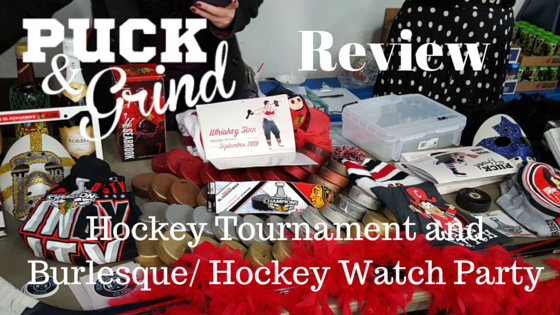 The day started around 10 am as I arrived at Johnny's Ice House. Upon arriving, I realized I needed to go to Johnny's Ice House West. Lucky for me the other location was a straight shot West. So a half hour later I arrived to help the Commissioner/ Producer of the event, Lady Ali Mode, set up tables. After making a run to grab supplies, setting up food as it came along, and arranging the trophy and souvenir pucks, we were ready to go for the people that would make the 4 teams for the tournament. It was really anyone's guess who would win, because players were assigned randomly, trying to provide each team with equal number of experienced and not as experienced players.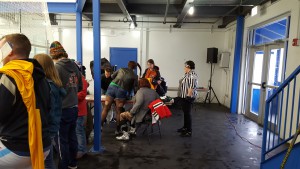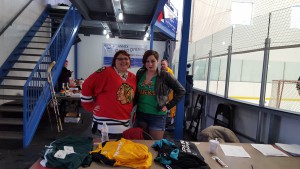 Boobs Radley sang the national anthems for both the United States and Canada, and play had begun at noon!
The Lakeside Pride Freedom Marching Band played a few tunes. A stick taping competition ensued between a hockey player and a burlesque performer (Whiskey Sixx representing us burlesquers), and somehow Whiskey got wrapped up in the tape. Broom ball was also an exciting side event with many of the Band Members coming out to play and fall on their bums.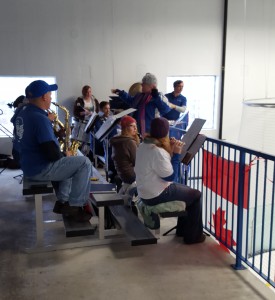 The green team won the tournament and raised their rhinestoned trophy high. Turns out one of the hockey ladies from the calendar shoot modeled her fancy bra for everyone in celebration. Speaking of hockey ladies, I was pleasantly surprised by the number of ladies out on the ice. It wasn't a 50/50 split, but there were plenty of them being bad ass players!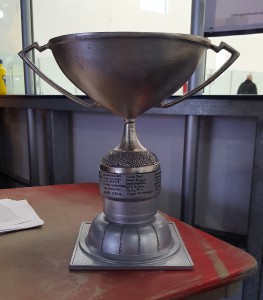 Later that evening, we headed over to Lincoln Tap Room. Before the hockey game, during intermissions, and after the game, there were burlesque acts, including a few hockey related acts. I myself had the pleasure of doing an act based off of hockey playing sweetheart Eddie Lack and donned taco pasties in solidarity with his love of the cuisine. Lady Ali Mode even performed her famous Blackhawks tribute act. Some of my favorite acts included Shimmy LaRoux's "Under the Booty" (a hip hop remix of "Under the Sea" and "Ms. New Booty" as a mermaid who just got her legs and, more importantly, a nice booty), Boob's Radley's "Hip Shop" (a Barber Shop Quartet mix of various hip hop songs performed as a lovely fan dance), and Brad French's energetic juggling routine.
And all in all, the entire evening raised over $3000 for You Can Play, a charity dedicated to the eradication of homophobia in sports between calendar sales, hockey tournament entry, raffle, and donations for food at the game. How great is that!
Commissioner Ali stated this event might come back in the hockey off season, perhaps June or July. We are looking forward to it!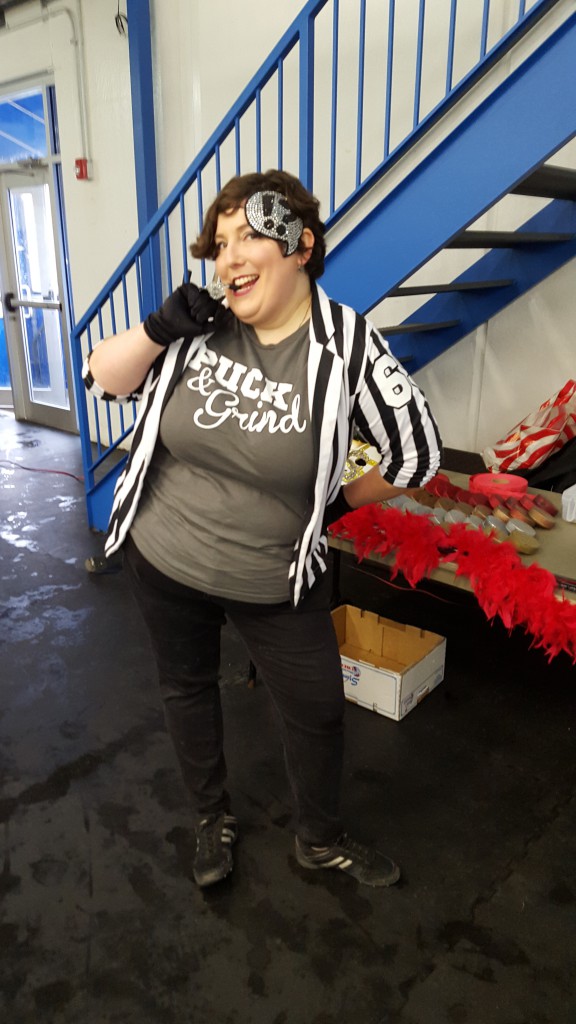 Full Photo Gallery Below